Home

/

Forks

/

Lauf Grit SL Gravel Fork 15mm TA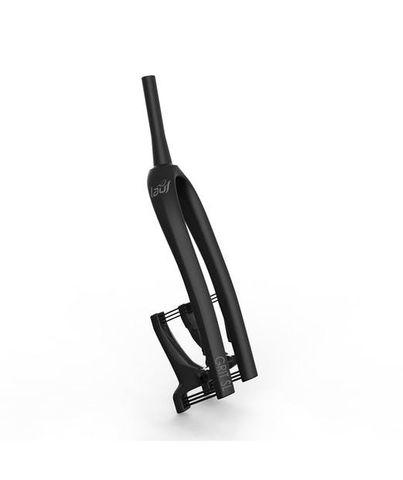 Lauf Grit SL Gravel Fork 15mm TA
Stock Code:
LFFK-KY1008-6S
Price:
Price: $1,250.00 (RRP)
Description
The Lauf Grit SL is the perfect addition to any gravel bike - or to "gravel-up" the CX bike. It makes the bike more capable and more comfortable. Make your next adventure the most fun one yet!

Wheels
700c and 27.5"

We recommend 700c for less rolling resistance.

Max Tire Width
700x45mm or 27.5x2.1"

The Grit SL forks can take up a whole lot of rubber, which can save your day when things get dirty.

Travel
30mm / 1.18"

This is the sweet spot for our forks. Since the travel is fairly short and progressive, we don't need damping. That makes the fork a lot simpler and maintenance free.

Weight
850 g / 1.87 lbs

The Grit SL is super light and the perfect addition to gravel bikes - or to "gravel-up" cyclocross bikes. Weight measured with 210mm steerer and Lauf axle.

Unsprung Weight
250g

The low unsprung weight is one of the design elements that makes this fork extremely good at tracking small bumps and chatter which gives you great traction and isolates you from vibration.

Axle
12mm or 15mm thru-axle

All forks are supplied with our own Lauf axle. A lightweight low profile axle, which requires a 6mm allen key. If you prefer a lever, you can replace the 15mm Grit SL with e.g. the RockShox Maxle.

Hub Spacing
100mm

Rake
47mm

The rake on the Grit SL is made to fit the slightly longer axle to crown then on on most gravel forks, while maintaining steering characteristics of 45mm rake rigid fork.

Axle to Crown
411mm (including 6mm sag)

The axle to crown on the Grit SL is slightly longer then on most rigid gravel forks, which is necessary to incorporate the 30mm travel. Combined with the 47mm rake the Grit maintains the steering characteristics of a rigid fork with 45mm rake and 395mm axle to crown.

Steerer
Tapered 1 1/8" - 1 1/2"

The Grit SL has an integrated crown race with 45° angle. It comes with a bearing that fits most headsets (45° upper and lower) but please check if the bearing fits your current headset. Uncut steerer is 300mm.

Minimum Rotor Size
160mm

The Grit SL is made for flat mount brakes. Spacers can be used to fit a 180mm rotor. If you'd like to use post mount brakes you should use this adapter for 160mm rotor: SM-MA-F140PDA.

Rider Weight Limit
110 kg / 242 lbs

This is your weight including gear.
Find your Nearest Authorised
Webshops and Bike shops
Find a Dealer