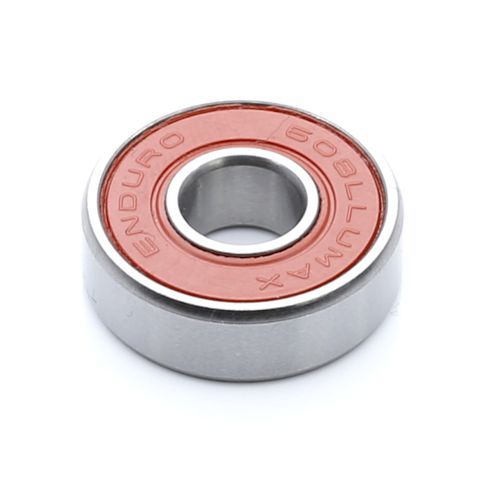 Enduro 608 8x22x7 MAX
Stock Code:
ENBG-BB-608-LLU-MAX
Price:
Price: $8.77 (RRP)
Description
Designed specifically for suspension pivots, Enduro Bearings pioneered MAX type bearings almost 20 years ago for bicycles to address the challenges associated with mountain bike pivots. These bearings have 35-40% more load capacity than standard radial bearings. We accomplish this with a special design where the maximum number of balls are inserted into the bearing. The race grooves are deeper on these bearings for more lateral support for the twisting and multiple forces associated with mountain bike pivots. LLU seals give maximum protection against the elements, while keeping the 90% fill of Almagard Extra High Pressure Grease inside.

Enduro LLU Type Seals

Similar to the LLB type seal, LLU is a full contact, dual lip seal riding in a groove on the inner race. With more sealing pressure, these are ideal for pivots or headsets that continually come in contact with dirt, sweat, and dust. The increased seal pressure and 2 lips help retain the 90% grease fill we use on these bearings to better displace any moisture and continually lubricate the balls and races.
Find your Nearest Authorised
Webshops and Bike shops
Find a Dealer