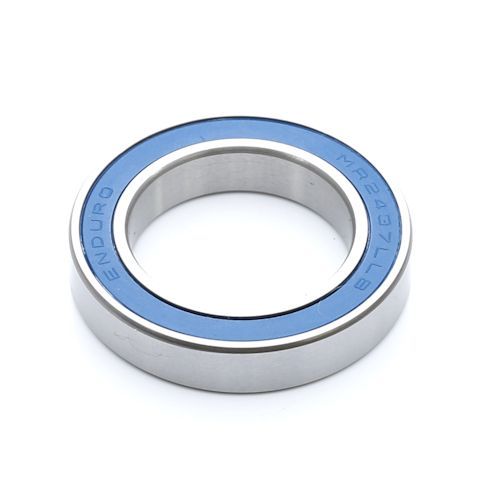 Enduro 2437 24x37.1x7 ABEC 3 BB90
Stock Code:
ENBG-BB-MR-24371-LLB
Price:
Price: $13.98 (RRP)
Description
OS bearing for some Trek BB90/95

- Grade 10 Chromium Steel Balls:
- High precision balls are within 10/1,000,000? round, twice as round as the industry standard, at it's highest level.
- 52100 High Carbon Chromium Alloy Races:
- Vacuum de-gassed process for the purest chromium alloy steel, hardened to R-62, extremely tough and very durable. Polished to a mirror finish for ABEC-3 precision and noiseless movement.
- Riveted Steel Retainer for toughness, ABEC-3 tolerances and noise tested, C-3 or C-N Internal Clearance

- Enduro LLB Type Seals
Our most popular seal type, this is a Nitrile material rubber with a steel insert. Rather than the standard 2RS type seal, we go a step further by machining a groove into the inner race where the seal can rotate with better efficiency and less rolling resistance. Rather than one thick seal lip rubbing on a blunt surface, LLB type utilizes two razor thin sealing lips riding in the groove with light contact. The outside lip keeps the water and contaminates out, while the inner seal retains the grease for smooth function and long intervals between servicing.
Find your Nearest Authorised
Webshops and Bike shops
Find a Dealer