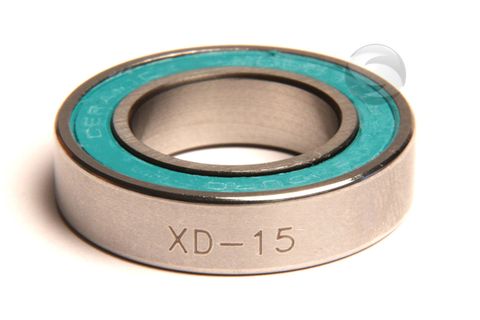 Enduro 6903 17x30x7 XD15 G3
Stock Code:
ENBG-BB-CXD-6903-LLB
Price:
Price: $209.85 (RRP)
Description
Want to make your bike faster than any other? Had enough of servicing your ceramic bearings so that they will survive another rainy day race? Would you rather have a bottom bracket outlast your frameset? Then you have arrived at the solution. XD-15 ceramic bearings have it all - hands down the speediest, and longest lasting ceramic bearing available on the market. Nitrogen steel is the secret, precision machined and ground to ABEC-5 tolerances at our facility in Gilroy, California. Voted "Hands down the best bottom bracket we have ever tested" from Bike Radar, you can find out why. These bearings spin with the very least resistance of anything we have developed to date featuring oversized Grade 3 Silicon Nitride balls. On top of this, they will be spinning with the same ease one year or even two years from now, with longer intervals between servicing. No one else in the bicycle industry offers this combination of speed and durability: XD-15 bearings for wheels, bottom brackets, and drive train.

- XD-15 are Corrosion Free, little serving required!

- Si3N4 Grade 3 Balls

- Silicone Seals allow Faster spinning

- New Limited Warranty

- Enduro LLB Type Seals
Our most popular seal type, this is a Nitrile material rubber with a steel insert. Rather than the standard 2RS type seal, we go a step further by machining a groove into the inner race where the seal can rotate with better efficiency and less rolling resistance. Rather than one thick seal lip rubbing on a blunt surface, LLB type utilizes two razor thin sealing lips riding in the groove with light contact. The outside lip keeps the water and contaminates out, while the inner seal retains the grease for smooth function and long intervals between servicing.
Find your Nearest Authorised
Webshops and Bike shops
Find a Dealer